Top Dog Fish is the ninth episode of Rolie Polie Olie. 
Summary
Spot gets jealous and feels left out w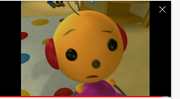 hen Olie and Zowie spend time with the former's class's pet fish. During this, Olie keeps trying to tell her that fish are nothing like dogs, such as the care.
Characters
- Polina Polie (Olie's Mom)
- Spot
- Chili
Songs
He's Sad, He's Blue - Performed by Brent Barkman
Gallery
Video